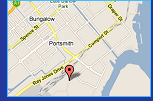 | | |
| --- | --- |
| | Ship's Chandlery |
Ships Chandlery and Trawler Supplies are the original product line of Sharplift. Meeting the supply needs of local and visiting vessels has been a major priority of the company since its inception in 1985.
The entire company is built around supplying a quality service to the local marine industry and to that end it is committed to holding the highest standards in product and service.
Products are sourced from the best suppliers worldwide to ensure the best options are available for our customers.
Cartons, Liners and Poly Bags
Net and Cod Ends
Rope - Silver, cord, twine
Wire Rope - Galvanised and Stainless Steel
Made up Wire Rope Products
Chains and Lifting Gear
Shackles, Turnbuckles, Swivels, etc
Floats, Buoys and Fenders
Baskets, Trays and Tubs
Multi-Purpose Net – Stinger Net, Bird/Pest Net

Splicing Services
Cleaning Chemicals
Batteries
Spray Paints
Glue's, Epoxy's, CRC
General Hardware
Rigging Hardware
Anchors
Mooring Equipment
Safety Equipment